13 Day Wild Lands of Guyana
Booking Dates
12/22/2021 through 12/16/2022
Travel Dates
08/17/2018 through 12/31/2022
Provider
Kensington Tours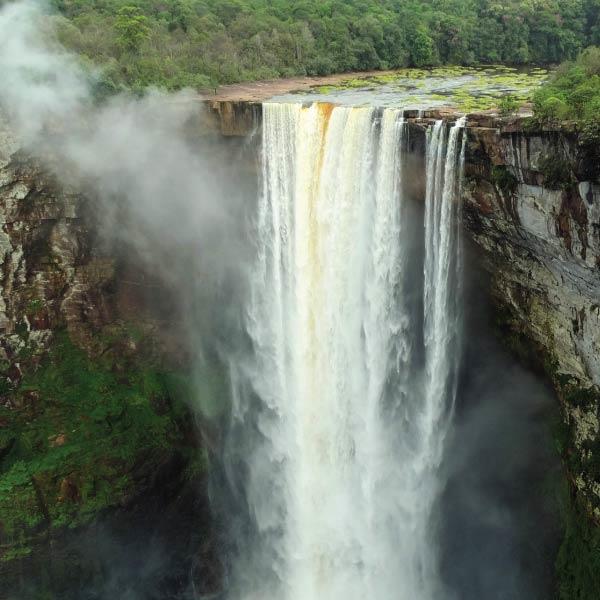 13 Day Wild Lands of Guyana

Some destinations are tailor-made for an Explorers Club program. Guyana, a raw and wild land of dense rainforests, sugarcane plantations, and a myriad of exotic wildlife, is one of those places. Maybe it's the promise of unbridled nature – Earth at its purest, most unfiltered and untamed – that, despite all of our modern conveniences, we still miss. Make no mistake; this is a place for true adventurers; creature comforts are few and far between. But that's precisely the point. Escape into the wildlands of Guyana with us, but be forewarned; you may never want to go back home.
This exclusive Explorers Club Collection adventure begins in Georgetown, the last urban area you'll see for several days. You'll first meet master chef Delvin Adams, who will escort you through the bustling markets and bazaars in search of ingredients he'll need for preparing lunch at his delightful little restaurant. While he's cooking you get a sense of where you are via a guided tour of the city's colonial architecture. Next, leave the city behind and head inland to Guyana's most majestic natural attraction: stunning Kaieteur Falls at 741 feet (226 meters), the world's highest single-drop waterfall). An optional helicopter transfer from Georgetown would not only take you to the falls, but also to Mount Roraima, the gigantic flat-topped mountain where the borders of Brazil, Venezuela, and Guyana converge. Things continue in an adventurous vain further south. From the isolated village of Apoteri, you'll voyage down the Rupununi River – keeping an eye open for giant river otters and black caiman along the way – to the Amerindian village of Rewa, a local eco-tourism project. After hiking nearby Awarmie Mountain and searching the rainforests for capybaras, capuchin monkeys, and other creatures in the company of skilled guides, journey deep into the Iwokrama Rainforest, with its terrific canopy walkway, allowing views on several canopy species that would be, virually, impossible to see from the forest floor. Near Yupukari, you'll be invited along on a black caiman hunt, watching from a separate boat as a team of local experts catches these big river dwellers for study at the Caiman House Field Station. You'll be able to picnic in the forest among a host of wild creatures, spot a Harpy Eagle nest with an expert guide, walk the trails in search of snakes, exotic birds, and maybe even the Goliath Birdeater, the world's largest spider, before heading back to civilization in Georgetown, forever changed by your sojourn in the wild.
The Explorers Club Collection by Kensington Tours is an exclusive suite of travel experiences inspired by the expeditions of the world's foremost society of scientists and adventurers. Each tailor-made Explorers Club trip connects you to the world's most fascinating people, places, and experiences with expert local guides and award-winning 24/7 service support. On-trip experts and experiences are subject to change depending on availability.
| Day | Description | View All |
| --- | --- | --- |
| Day 1 | Guyana To Georgetown | Details |
| Day 2 | Georgetown | Details |
| Day 3 | Georgetown To Kaieteur Falls | Details |
| Day 4 | Kaieteur Falls To Apoteri To Rewa | Details |
| Day 5 | Rewa | Details |
| Day 6 | Rewa To Iwokrama | Details |
| Day 7 | Iwokrama | Details |
| Day 8 | Iwokrama To Yupukari | Details |
| Day 9 | Yupukari To Mapari | Details |
| Day 10 | Mapari | Details |
| Day 11 | Mapari To Yupukari | Details |
| Day 12 | Yupukari To Lethem To Georgetown | Details |
| Day 13 | Georgetown | Details |